Register for a Hike
Saturday hikes will be on Saturday, September 17th, and will begin and end at Donner Ski Ranch located on Donner Pass Rd./ Highway 40 on Donner Summit. That's exit 174 from I-80 and then 3.5 miles east. Choose one of the hikes listed below. Guides lead groups of approximately 15–20 people to interpretive spots telling stories and giving detailed historical information focused on emigrant and area history. Tickets are $65 per hiker.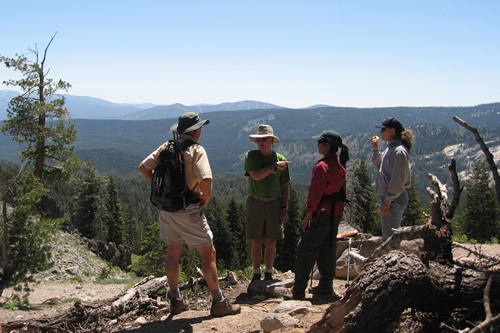 In the afternoon enjoy music by Alice Osborn, from North Carolina, who will be sharing her songs that tell the story of the Donner Party. A hamburger lunch and a presentation on the history of Donner Summit from local historians.
Notice: Registration closes on September 4th. After this date, there will be no refunds. This gives Donner Ski Ranch two weeks to order food for our guests.
Notice: In the event that the USDA Forest Service closes the Tahoe National Forest, we will be unable to hike. For health and safety reasons, we may need to cancel the event. In either case, refunds will be made upon request up to two weeks before the event (minus the Eventbrite processing fee). You may request that your fee carries to next year's event. Let's hope that the winds blow favorably. If conditions, such as smoke, make the event dangerous to hold just before the event, there can be no refunds since food, rental chairs, etc. will have already been paid for or ordered.
Meet at Donner Ski Ranch on Highway 40 (Soda Springs exit off I-80.) Times are listed below.
Groups of hikers will depart once an adequate number has gathered. Note: departure times are estimates and reflect the range of departure times. Your return time will vary based on departure and hike choice.
---
Register
HISTORIC DONNER PASS
Difficult, 2.5 miles round trip
North of Old Highway 40 you'll get great views and a lot of history: the first transcontinental air route weather station remains; Sierra Junipers and the same juniper that Mary Ann North painted in 1884; Lake Angela's history and how it got its name; Starved Camp of the Donner Party and the Donner rescuees; Catfish Pond; overview of Donner Summit history; the Central Shaft of Tunnel 6, and lots more.
Meet at 8:30 AM
---
Register
DONNER PEAK / COLDSTREAM PASS
Moderate, 4.5 miles round trip
Donner Peak is Sierra granite. After a walk up the trail you walk up the granite slabs and are rewarded by standing in a notch 1,000 directly above Donner Lake. One the way, what it looked like in 1910, old pictures of previous conquerors of Donner Pk. Then there are stories about the Emigrant Trail, marking the trail, Coldstream Canyon and Coldstream Pass, Theodore Judah, the first rope tows on Mt. Judah, how Mt. Judah got its name, etc.
Meet at 8:30 AM
---
Register
RAILROAD SNOWSHEDS
Moderate, 4- 6 miles round trip
Theodore Judah said snow was not a problem on Donner Summit. He was wrong as the snowsheds attest. Learn about the transcontinental RR, Tunnel 6 (two years to build while progress was made at 14" a day), see tool marks left by the Chinese 150 years ago. Learn about China Wall and see tool marks still there. Find out about snowsheds.
Meet at 8:30 AM
---
Register
SUMMIT MEADOWS
Moderate, 4 miles
This walk through Van Norden Meadow in the Summit Valley tells the history of Van Norden dam and the lake, Native American grinding rocks, metates, and basalt flakes, the Dutch Flat Donner Lake Wagon Rd., the sheep industry and shepherd's cabin remains. Follow in the footsteps of the Donner Party on the emigrant trail that passed through Van Norden Meadow and brought thousands of settlers to California.
Meet at 8:30 AM
---
Register
SUMMIT CANYON / DUTCH FLAT WAGON ROAD
Moderate and about 3.5 miles in length
This is a walk through history and all downhill: the first transcontinental railroad, highway, air route, wagon trains, Sierra Crest, 1914 underpass, ads painted on the rocks 100 years ago and still visible, petroglyphs 2-4000 years old, Chinese RR workers camp, and wonderful views. Learn about some of the automobile transcontinentalists and some firsts: the first bicyclist over the Sierra, the first auto over the Sierra, and the first motorized crossing of the U.S. (over Donner Summit.)
Meet at 8:30 AM
---
Register
ROLLER PASS / JUDAH LOOP
Moderate/Strenuous, 6.0 miles round trip
Hike elevation: Start is 7100 feet; Mt. Judah 8200 feet
There are a lot of stories on the way to Roller Pass, discovered in 1846. Sierra Junipers, Johnny Ellis and his rope tows, Sugar Bowl, Theodore Judah, the Emigrant Trail, Sierra Crest Trail, Weddell markers of the Emigrant Trail, the first locomotives over the summit (they did not go on tracks) and why, Chinese RR workers' camp, Red Mountain, the first air route, and then on top of Mt. Judah – wow, what a view.
Meet at 8:00 AM
---
Register
HIGH SIERRA LAKES
Moderate/Strenuous, 6 miles round trip


Enjoy incredible vistas seen by emigrants as they passed through the High Sierra years ago. Discover hidden alpine lakes while exploring Donner Summit.
Meet at 8:00 AM


---
Register
Donner Memorial State Park Natural History Hike
Moderate with Uneven Terrain, 3 miles round trip
State Park Interpreter Jeremy Lin will lead an approximate 3-mile hike starting at the Donner Memorial State Park Visitor Center at 9:30am. BUT the hike will gather at Donner Ski Ranch at 8:45 to carpool down to the State park. We will discuss the natural features of the region including tree diversity, geology of the Sierra Nevada Mountains, and alpine lake ecology.
The guided tour will last about 2.5 hours and trek along the iconic Donner Lake frontage, through the mixed conifer forest, and loop past Michael's Pond. This hike is considered moderate difficulty due to narrow trails, uneven terrain, and potentially hot weather conditions. The Donner Lake area is renowned for its beautiful scenery, intriguing biodiversity, and lovely hiking trails. Please contact Jeremy jeremy.lin@parks.ca.gov if you have any questions about this hike.
Meet at 8:30 AM at Donner SKi Ranch
---